Come help us finish the Channel Trail…  
Come join us on Saturday, April 18th at 9:45 AM to finish the Old Channel trail work we started on Feb 28th.
We'll meet at the first gate at 1000 Acres Road. for a short day, we've already spread most of the stone, and just have a little more to do.
Also, note that there will be a tree planting group at the Delta Saturday Morning as well.
You'll need a shovel, gloves, and good boots, and a sturdy garden rake (not a lawn rake) is always useful – (though we often have additional tools handy).  We will be working 3 – 4 hours.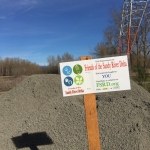 If you use the Delta regularly, we could really use your help.  If you're interested, send us a message by clicking Contact.
Remember, All trail materials have been bought through generous donations from Delta users like you.