Due to predicted heavy rains, we are cancelling Sunday's work party.  
(It's miserable working in heavy rain, and the tractor may do more trail damage than we are tying to prevent.)
Stay tuned for a rain date update…
Come join us on Sunday, March 15 at 9:00 AM to finish the Old Channel trail work we started on Feb 28th.  
You'll need a shovel, gloves, and good boots, and a sturdy garden rake (not a lawn rake) is always useful – (though we often have additional tools handy).  We will be working 3 – 4 hours.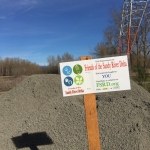 If you're interested in helping, send us a message by clicking Contact.
Remember, All trail materials have been bought through generous donations from Delta users like you.